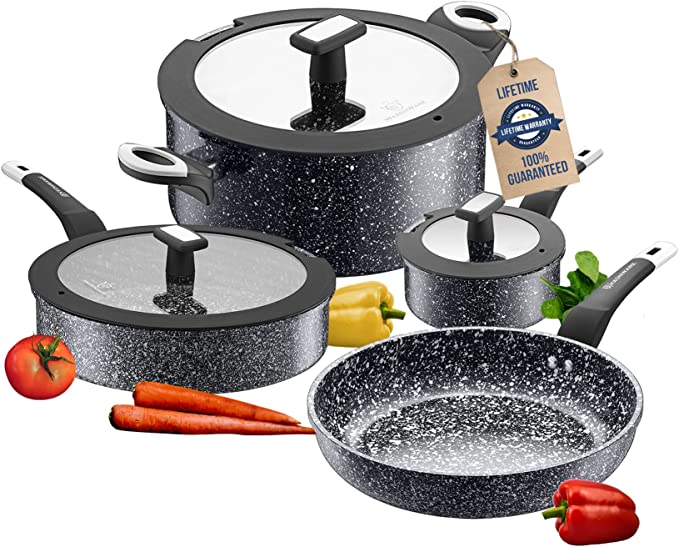 DURABLE AND VERSATILE - Unlike other cookware sets our nonstick pans are designed to last a lifetime! You'll enjoy cooking for years to come with our durable pots and pans. No more replacing scratched or damaged pots and pans! Our Stonetec technology allows our non stick pots and pans to last. This cookware set has fast & even heating & cooking that is sure to impress. The set has a beautiful stonetec coating that is perfect for all kitchens
NONSTICK, TOXIN-FREE -  Our 7 piece cookware set is made with 100% PFOA and PTFE free ceramic coating. This means that you can cook your favorite meals without worrying about harmful chemicals getting into your food. The ceramic coating on this pots and pans set allows for even heat distribution and no additional additives like butter or oil, your food will slide right off! We've got you covered when it comes to healthy cooking!
BAKELITE HANDLES - Our patented stay-cool handle technology keeps your hands safe while you cook with our kitchen cookware set over low or high heats, allowing you to enjoy your kitchen, worry free! Our Cookware Set is also perfect for all stovetypes. No matter what stove top you have our nonstick pot and pan set can complete the task. Use our cookware set with induction, glass, halogen, electric, or gas stoves!

EASY CLEAN UP - No other kitchen set in your arsenal is simpler to clean than the WaxonWare Non stick Cookware set. Simply let your pot to cool to avoid warping and wipe away any leftover residue. The raised sides on our pots and pans also minimize splatter when cooking so that you don't have to worry about burning yourself or getting splatter on your stove or oven while stirring or flipping your food. Minimize Messes whenever you can!
7 PIECE SET - Our versatile set comes with our award winning 11" Granite Frying pan, 1.75 Quart Saucepan, 5.25 Quart Dutch Oven, and 11" Saute Pan with Lid. No matter the meal, this set has you covered! If at any point you're not satisfied with your Stonetec Pot and Pan Set (or any of our other non stick pans), simply let us know and we'll make it right immediately. Simply click Add to Cart to purchase your Cookware Set right now!
Engineered to perfection, STONETEC is a special 5 layer nano ceramic coating that contains no PFOA or PTFE thus making it one of the most if not the ultimate coating in both durability and safety.
We made sure to create a PFOA, PTFE, APEO, lead, and cadmium-free pan that will revolutionize your cooking experience.
Made with high-grade pressed aluminum 3003 alloy, encapsulated with a powerful magnetized induction bottom, and then finished with our leading and patented Stonetec coating technology.
WaxonWare's Stonetec collection is becoming the leading ceramic-coated casserole in the world—and for good reason!
For the best cooking experience with this pan, we recommend using temperatures of low to medium heat. Our cookware is designed to retain and distribute heat evenly, and is most effective over low heat levels.
Be sure to check the Use & Care instructions on the back of your saucepot before first use. 
CLEANING INSTRUCTIONS: 
Let your Stonetec pots and pans cool before cleaning to prevent warping. Simply add cold tap water to your pot, and let it sit for 5 minutes. Use a soft sponge to remove oil residues. Because of WaxonWare's innovative non-stick technology, your clean-up process is made quick, easy, and even fun!
Free standard shipping on all orders above $70
Product delivery time is 4-7 days for Standard Shipping and 1-3 days for Expedited Shipping
US delivery only, but more coming soon.
All WaxonWare purchases include a 30-day money-back guarantee if not satisfied (but we hope you are).
Limited lifetime warranty, just in case there are any problems.
If you experience any issues (or difference of opinions) with your purchase after receiving it, please contact

 

support@waxonware.com to arrange a replacement or a refund.We've got your back!