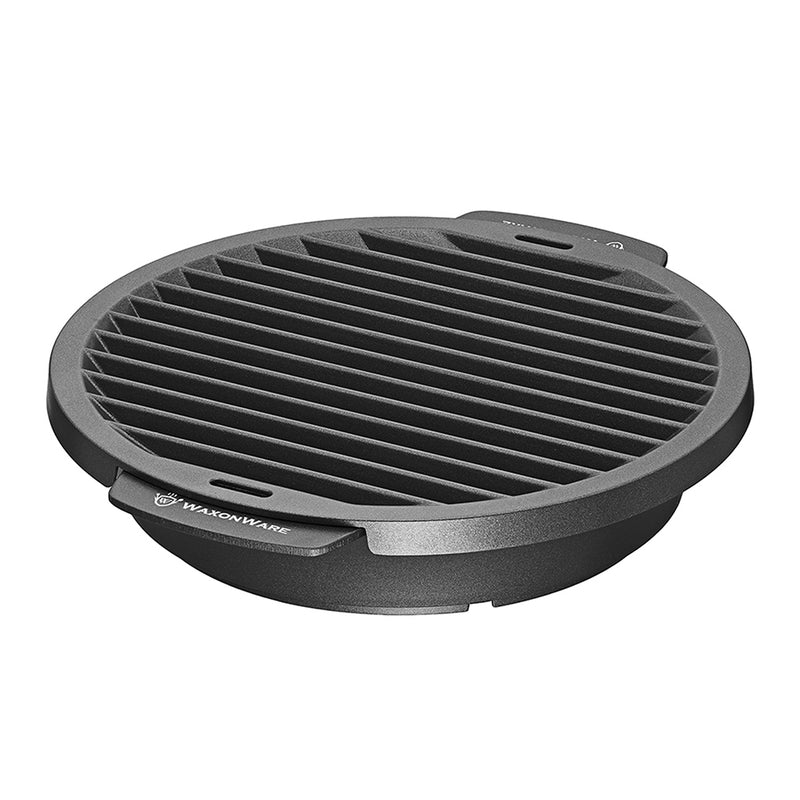 PREMIUM QUALITY

- Our wear-resistant double-coated die-cast aluminum grill is one of the most convenient ways to cook outdoor food inside. Start eating healthier and better tasting food when you cook with this stovetop grill.
HEALTHY COOKING

- Reduce fat and cholesterol in foods while sealing in flavor. Our stovetop grill is non-stick, so you can cook all types of meat, vegetables, and thawed food without oil or butter. It is a healthy and delicious alternative to pan frying or broiling that brings the great taste of outdoor food inside.
PREMIUM NON-STICK SURFACE

- Our stovetop grill is made of a 100% FDA-approved, PFOA and PTFE-free non-stick coating that provides quick and even heating. The double-coated surface makes cooking and cleaning safe and easy. This grill is dishwasher safe, but hand-washing is recommended.
DRIP PAN

- Unlike most other griddles, our stovetop grill has an integrated drip pan that catches excess fat and grease, preventing dangerous flare-ups. Add water to the drip pan to help eliminate unpleasant smoke and grease splattering. Fill the die-cast drip pan with water or your marinade to add moisture to your food, infuse flavor, prevent drying, and eliminate smoke.
VERSATILE

– Our stovetop grill is safe to use on both electric and gas stoves, as well as inside an oven to finish off your dish with a flavorful and delicious crispiness. This is not just an indoor stove top grill; take it camping, and grill delicious food right over your portable propane burner!
WaxonWare's non-stick and durable cookware makes healthy cooking easy, fun, and environmentally-friendly. The WaxonWare BBQ Smokeless Grill is an innovative cooking appliance that can be used to grill vegetables, meat, fish, and much more. It can be placed over stovetops, as well as on portable burners. It includes a well-built draining pan to collect excess grease and fat, minimizing oil splashing while grilling. Our cookware is both affordable and easy to clean, for long-lasting care and usage.
This grill is finished with our specialty dual-layer non-stick coating, which does not contain PTFE or PFOA. It is the most scratch and abrasion-resistant non-stick finish to date. It is able to withstand high heat, and retain all its properties for easy clean-up.
Simply fill the drip pan with water, your favorite marinade, or wine to add moisture, infuse flavor, and prevent your food from drying out. The grill pan ensures an even heat distribution, letting you cook your meals to perfection. Its construction allows grease to drip down through the holes, reducing your fat intake. 
The grill can be used on both gas and electric stoves.
Free standard shipping on all orders above $70
Product delivery time is 4-7 days for Standard Shipping and 1-3 days for Expedited Shipping
US delivery only, but more coming soon.
All WaxonWare purchases include a 30-day money-back guarantee if not satisfied (but we hope you are).
Limited lifetime warranty, just in case there are any problems.
If you experience any issues (or difference of opinions) with your purchase after receiving it, please contact

 

support@waxonware.com to arrange a replacement or a refund.We've got your back!