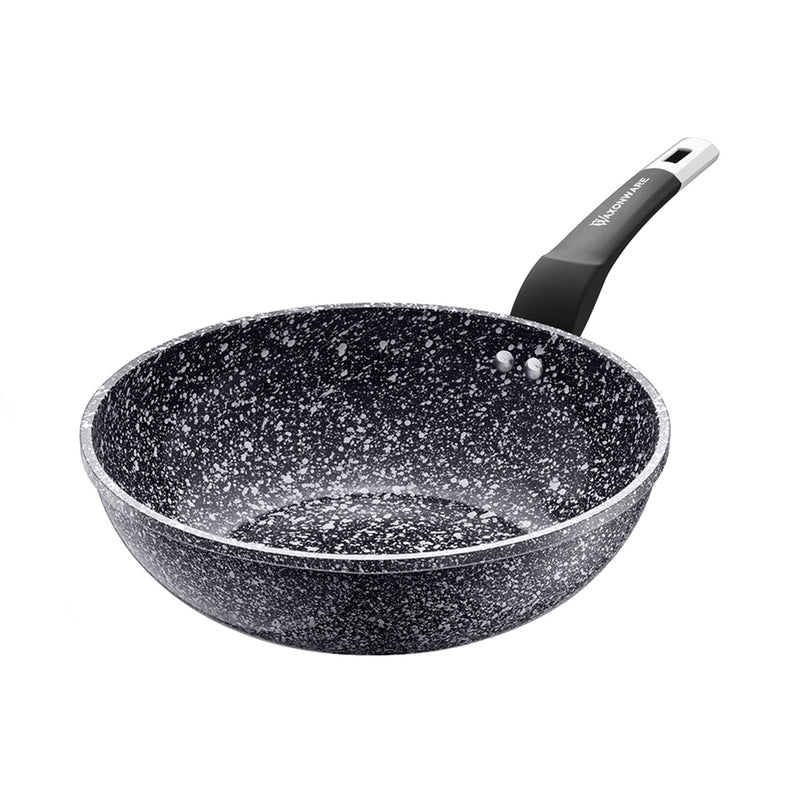 STONETEC - This revolutionary Jumbo Wok / Stir-Fry Pan features an FDA approved, 100% PFOA, PTFE, APEO, lead, and cadmium-free five-layer ultra non-stick ceramic coating, made of natural stone and granite.
VERSATILE - WaxonWare's Non-stick Jumbo Wok's top-grade electromagnetic bottom allows for even heat distribution and anti-warp protection. It can be used on all cooking surfaces, including induction. 
LIGHTWEIGHT & EXTREMELY DURABLE - This stir-fry pan features a riveted, heat-resistant, silicone-layered bakelite handle. Its accompanying table mat enables you to safely place your cookware over a stovetop, as well as directly onto your table. This pan's innovative protection qualities allow you to keep both your cookware scratch-free, during use and in storage. 
MADE OF HIGH QUALITY PRESSED ALUMINUM 3003 - This wok is engineered with professional-grade materials. The gorgeous, modern design will complement any kitchen, making it a one-of-a-kind piece of cookware that can't be found anywhere else.
DISHWASHER-SAFE - The Stonetec Non-stick Jumbo Wok / Stir-Fry Pan is dishwasher-safe. However, we recommend hand-washing to protect the long-lasting non-stick function of your pan.
Introducing Stonetec, the latest and safest in granite/ceramic coating technology, made of natural, earthly stone minerals. WaxonWare's Stonetec pan is becoming the leading ceramic-coated wok in the world—and for good reason!
Made with high-grade pressed aluminum 3003 alloy, encapsulated with a powerful magnetized induction bottom, and then finished with our leading and patented Stonetec coating technology, WaxonWare's Non-stick Jumbo Wok / Stir Fry Pan is bound to be a state-of-the-art addition to your kitchen.
The WaxonWare Stonetec Wok features a stylish, modern design that looks great in the kitchen, while offering reliable everyday performance. Our innovative pan takes cues from traditional wok designs, with its deep bowl and burner sized bottom that keeps direct heat contained in a smaller zone for sautéing and searing.
Heavy-gauge, pressed aluminum construction ensures even heating, while a multi-layer granite non-stick surface offers exceptional durability and easy clean-up. Featuring a flat bottom and curved sides, this pan is is designed to easily toss, turn, and stir food, and is just the right size for dinner for two.

With its amazing non-stick properties, the WaxonWare Jumbo Wok allows you to saute, deep fry, stir fry, bake, boil, and braise—with very little amounts of oil. It's also one of the leading waterless kitchen equipment in the world, allowing you to cook with 50% less water than used in regular cookware. Now, your meat, chicken, and seafood can stew in their own juices, making your meals tastier than ever. 
Thanks to a durable 5-layer stone-based, PFOA & PTFE-free non-stick surface, the WaxonWare Stonetec 11-inch Stir Fry Pan lets you cook confidently without worrying that food will stick to the pan. Its non-stick surface also allows you to use less oil or butter for healthy, low-fat cooking.
For the best cooking experience with this pan, we recommend using temperatures of low to medium heat. Our cookware is designed to retain and distribute heat evenly, and is most effective over low heat levels.
Free standard shipping on all orders above $70
Product delivery time is 4-7 days for Standard Shipping and 1-3 days for Expedited Shipping
US delivery only, but more coming soon.
All WaxonWare purchases include a 30-day money-back guarantee if not satisfied (but we hope you are).
Limited lifetime warranty, just in case there are any problems.
If you experience any issues (or difference of opinions) with your purchase after receiving it, please contact

 

support@waxonware.com to arrange a replacement or a refund.We've got your back!