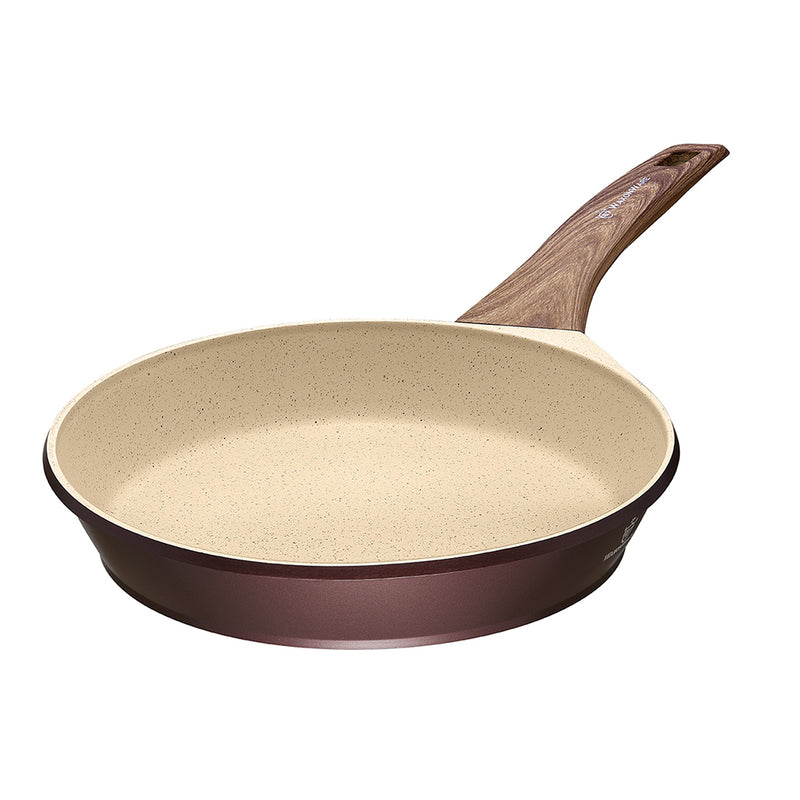 MARBELLOUS - WaxonWare's Round Open Frying Pan & Non-stick Skillet features a 100% PFOA, lead, and cadmium-free triple-layer marble-based coating. Our non-stick technology is one of the most effective and advanced coatings in the market, ensuring maximum food release and exceptional cooking performance.  
ALL COOKING SURFACES COMPATIBLE - This cookware's rock-solid body coupled with an induction plate ensures that no matter what kind of stovetop you own, your Marbellous pots and pans can be used with maximum efficiency.
HEAT RESISTANT HANDLES - This pan features riveted, soft-touch bakelite handles that stay cool when the pans are used over a stovetop, and are ergonomically designed for a safer grip. Because there are no rivets from the inside, this pan ensures an easy clean-up process. 
LIGHTWEIGHT AND EXTREMELY DURABLE - Made with die-cast aluminum, Waxonware's Round Open Frying Pan & Non-stick Skillet has the durability and anti-warp properties of cast iron cookware, as well as the even cooking benefits of aluminum. It is also dishwasher and metal utensil-safe.   
LIMITED LIFETIME WARRANTY - We ensure a 30-day money back guarantee, no questions asked. 
Just when you thought that non-stick cookware couldn't get any better… Introducing, WaxonWare's Marbellous Round Open Frying Pan & Non-stick Skillet.
What's The Secret? WaxonWare's Marbellous Non-stick Frying Pan features a stylish, modern design that looks great in the kitchen, while offering reliable everyday performance. This fry pan has a thick, flat bottom with raised sides, making it ideal for preparing eggs and omelettes, sautéing vegetables, and frying all kinds of food. The die-cast aluminum construction ensures even heating, while a triple-layer PFOA-free non-stick surface offers exceptional durability and easy clean-up.
A long, riveted soft touch bakelite handle makes cooking easy, and stays cool while used over the stovetop. Unlike heavy and high-maintenance cast iron, the Marbellous Frying Pan is lightweight, easy to maintain, and provides exceptional performance. Thanks to its durable triple-layer, PFOA-free non-stick surface, the Marbellous Non-stick Frying Pan allows you to cook confidently without worrying that food will stick to the pan.
The non-stick surface allows you to cook with less oil or butter for healthy, low-fat cooking. Our skillets are uniquely designed to top any other cookware coating system, offering you countless hours of cooking enjoyment while keeping you and your family safe.
Made of high-grade cast aluminum alloy, the Marbellous non-stick pans are rock-solid in build and are encapsulated with a powerful magnetized induction bottom, allowing you to cook with maximum efficiency over any cooking surface. 
CLEANING INSTRUCTIONS: 
Let your Marbellous pan cool before cleaning to prevent warping. Simply add cold tap water to your pan, and let it sit for 5 minutes. Use a soft sponge to remove oil residues. Because of WaxonWare's innovative non-stick technology, your clean-up process is made quick, easy, and even fun!
Free standard shipping on all orders above $70
Product delivery time is 4-7 days for Standard Shipping and 1-3 days for Expedited Shipping
US delivery only, but more coming soon.
All WaxonWare purchases include a 30-day money-back guarantee if not satisfied (but we hope you are).
Limited lifetime warranty, just in case there are any problems.
If you experience any issues (or difference of opinions) with your purchase after receiving it, please contact

 

support@waxonware.com to arrange a replacement or a refund.We've got your back!