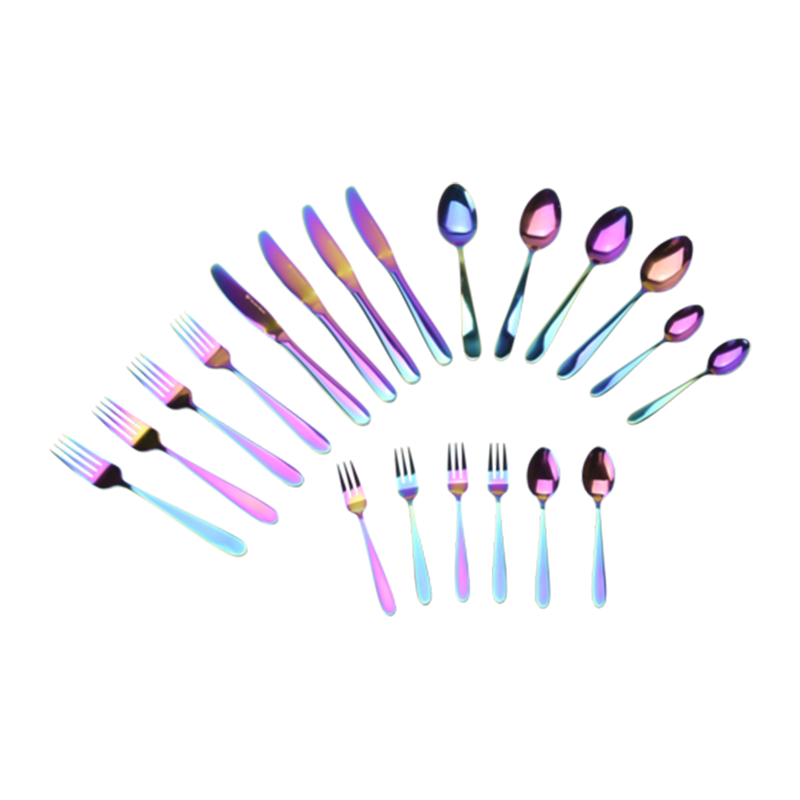 COMPLETE CUTLERY & FLATWARE SET - This one-of-a-kind set comes with 20 pieces of premium cutlery to help you serve and enjoy every meal in style.

MODERN, INNOVATIVE COLOR - Coated with rainbow-colored PVD technology, our stainless steel cutlery creates a truly unique look that families will love! 

PREMIUM CUTLERY SET - The 20-piece flatware included in every order comes with: traditional dinner butter knives, longer dinner forks, bigger dinner spoons, small pastry forks, and smaller teaspoons. Four pieces of each are included.
HEAVY-DUTY CRAFTSMANSHIP - Each set of cutlery is made from SS410 stainless steel which is long-lasting, dishwasher-safe, durable, and reliable.
Make cooking, serving, and enjoying meals and dinners even easier with an all-purpose Stainless Steel Flatware set from WaxonWare!
Whether you love trying out new recipes you find on Pinterest or you just need a great cutlery set for your growing family, nothing is more fun, reliable, and original than the WaxonWare 20-Piece Stainless Steel Flatware Cutlery Set.
Crafted with heavy-duty stainless steel and coated in food-grade and safe rainbow PVD colors, this exclusive bundle gives you everything you need to whip up a great meal and enjoy it with family and friends.
Customize Your Set:
While this set includes only the 20-piece cutlery flatware set, you can choose to create only selections of either one (Cutlery & Tools) to round out your specific kitchen cooking and serving needs.
Product Details:

Premium Flatware Set (20-Pieces)

Rainbow PVD-Coated Color Technology

Ideal for Cooking, Serving, and Dinner Enjoyment

Heavy Duty, Durable, and Dishwasher Safe

Reusable, Indoor, and Outdoor Use

High-Quality Stainless Steel (SS410)

Satisfaction Guaranteed
Free standard shipping on all orders above $70
Product delivery time is 4-7 days for Standard Shipping and 1-3 days for Expedited Shipping
US delivery only, but more coming soon.
All WaxonWare purchases include a 30-day money-back guarantee if not satisfied (but we hope you are).
Limited lifetime warranty, just in case there are any problems.
If you experience any issues (or difference of opinions) with your purchase after receiving it, please contact

 

support@waxonware.com to arrange a replacement or a refund.We've got your back!