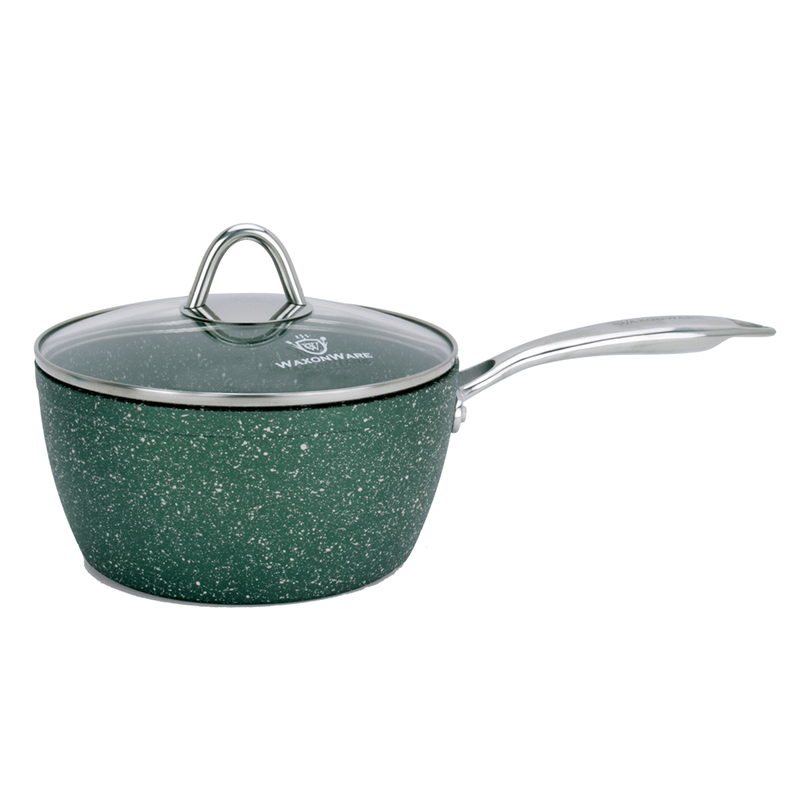 ULTRA NON-STICK & SCRATCH RESISTANT

 - This saucepan's interior is ultra non-stick and scratch resistant, enhancing both durability and cooking performance. Ideal for use over high heat with minimal oil or butter, promoting a healthy diet. Cleans easily and is dishwasher safe (however, hand-washing is recommended).
CLASSY & ELEGANT DESIGN

 - WaxonWare's Emerald Non-stick Saucepan is designed with an astounding stone-like surface, featuring a natural green coating color. With its ergonomic stainless steel handle, this stone pot is a beautiful addition to your kitchen. This 2.5 Quart Saucepan is the optimal size for day-to-day cooking.
HEATS QUICKLY & EVENLY

 

- Made of professional-grade aluminum alloy, the Non-stick Saucepan conducts heat quickly and evenly, with precise temperature control and no hot spots. Food is cooked quickly and evenly across the surface of the pot, and slips onto the plate once ready.
INDUCTION & OVEN COMPATIBLE

 - This pot's flat bottom can be placed over any heat source, and is suitable for use on all stovetops including induction, glass, gas, and even inside an oven to finish off your favorite dishes.
ECO-FRIENDLY & TOXIC-FREE

 - The WaxonWare Non-stick Saucepan is PTFE, PFOA, lead, and cadmium-free, ideal for healthier cooking. Limited Lifetime Warranty.
Introducing a new, 100% toxin-free stone-based non-stick coating that releases food with little or no oil, giving you plenty of healthy meals all year round. The Emerald non-stick technology is extremely durable with a high level of scratch and abrasion resistance, has easier clean-up than most available cookware in the market, and can withstand temperatures of up to 600°F, even inside an oven!
Add to that its quick heating properties, and you've found cookware that is oven and broiler-safe, dishwasher-safe, metal utensil-safe, and 100% PTFE, PFOA, APEO, and cadmium-free!
The Emerald series has been developed with you in mind, giving you greater variety and control over when and where you use your cookware. Impact-bonded with premium induction disks on the bottom, the whole set can be used on any type of cooking range, whether it be gas, electric, induction, or even inside an oven.
The body of the pot is thick and sturdy enough to withstand high heat, thus protecting it against warping. Its stainless steel riveted handles ensure durability of the cookware and versatility of use under a variety of conditions. The glass lids allow you to monitor food while it cooks without losing heat or moisture.
With its amazing non-stick properties, the WaxonWare Non-stick Saucepan allows you to deep fry, make soups and sauces, boil, braise, and even saute with little to no oil. The glass lids allow you to monitor food while it cooks without losing heat or moisture. Oatmeal, pasta, rice, and sauces all cook beautifully without sticking in the 2.5 Quart Non-Stick Pot Saucepan—and clean-up is easy, too.
Free standard shipping on all orders above $70
Product delivery time is 4-7 days for Standard Shipping and 1-3 days for Expedited Shipping
US delivery only, but more coming soon.
All WaxonWare purchases include a 30-day money-back guarantee if not satisfied (but we hope you are).
Limited lifetime warranty, just in case there are any problems.
If you experience any issues (or difference of opinions) with your purchase after receiving it, please contact

 

support@waxonware.com to arrange a replacement or a refund.We've got your back!